Quality Over Quantity
Salient makes building websites easier than ever before.
Years operations in municipalities.
About Marut Zap
Empowering Reforestation with Innovation.
We understand the importance of effective mosquito control in safeguarding public health and enhancing quality of life. 
Our advanced drone technology " MarutZap"  is developed for targeted and precise operations, efficiently targeting mosquito breeding grounds and eliminating these disease-carrying pests. 
MarutZap combines innovation and efficiency, delivering unparalleled results in mosquito eradication. 
By leveraging the power of MarutZap drones, we ensure a more sustainable and eco-friendly approach to mosquito control and protect communities from vector-borne diseases.
See Our Story
Our products are FDA approved and backed by real science
UAV based anti-larval operations
India's 1st work to eradicate mosquitoes at early stages using customized UAVs. A swarm of drones is deployed to ensure 100% coverage of water bodies and drastically cuts down the exposure of workers to hazardous chemicals and activities.
Guided and validated by data, each day's work output is now quantified and improved upon. The operations were 10x Faster, 5x More economical and 100% safe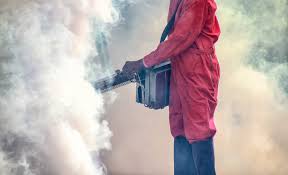 IoT Fumigation Trackers
IoT sensors and GIS are leveraged to provide real-time tracking and monitoring of fumigation activities. Sensors are attached to fumigation devices used in the region to precisely identify the fumigated areas and detect the distribution and spread of the chemicals. And an easy to monitor portal help plan interventions better, monitor inefficiencies and plug leakages.