Empowering Reforestation with Innovation.
Seedcopter, India's pioneering commercial drone specializing in UAV aerial seeding.
Play Video
Quality Over Quantity
Faster, Sustainable, Effective, and Efficient Scalable
Solutions
About Seedcopter
Empowering Reforestation with Innovation.
Seedcopter, India's pioneering commercial drone specializing in UAV aerial seeding. With Seedcopter, we believe in the power of technology to drive positive change. Our UAV aerial seeding technology enables efficient and precise seed dispersal in areas that require urgent attention. By combining cutting-edge advancements with community involvement, we create a holistic approach to reforesting lands.
Hara Bahara(Rana)
Our innovative campaign, Hara Bahara, is designed to restore forests after loss, fragmentation, and mismanagement with the help of Seedcopter.
Join us in transforming landscapes and promoting biodiversity. Experience the transformative impact of Seedcopter's UAV aerial seeding technology as we build a greener, more sustainable future.
See Our Story
Our products are FDA approved and backed by real science
Hara Bahara
Hara Bahara is a flagship campaign to plant 1 Billion trees by 2030 across India using drones. As a beginning, we successfully deployed swarm of drones in multiple forests across 33 districts of Telangana sowing 50 lakh seedballs of multiple species.
Mahabubnagar (Guinness World Record Seedballs)
69,200 women of 5,880 self-help groups to grow greenery and increase forest cover in Mahbubnagar district found them a place in the International World Book of Records last year as a truly unique initiative, for their effort is preparing and then spreading seedballs as part of the HARITHA HAARAM (Chain of Greenery) initiative of Telangana Government.
Udaipur, Rajasthan
A single drone was successfully deployed for dropping seed balls in interior hilly areas at Sarveni Ven that falls under Salumber forest range of Udaipur district. The initiative was a part of the pilot project jointly taken up by the Ministry of Forest and Environment, New Delhi and Rajasthan government.
The Reforestation plot is part of hilly terrain, located in Aravali range. It is a highly de-forested and fragmented landscape. The inaccessibility of the terrain had till now been a hindrance in its recovery. 10,000 seedballs were dispersed in 5 hectares of land with local seed varieties unique to the region.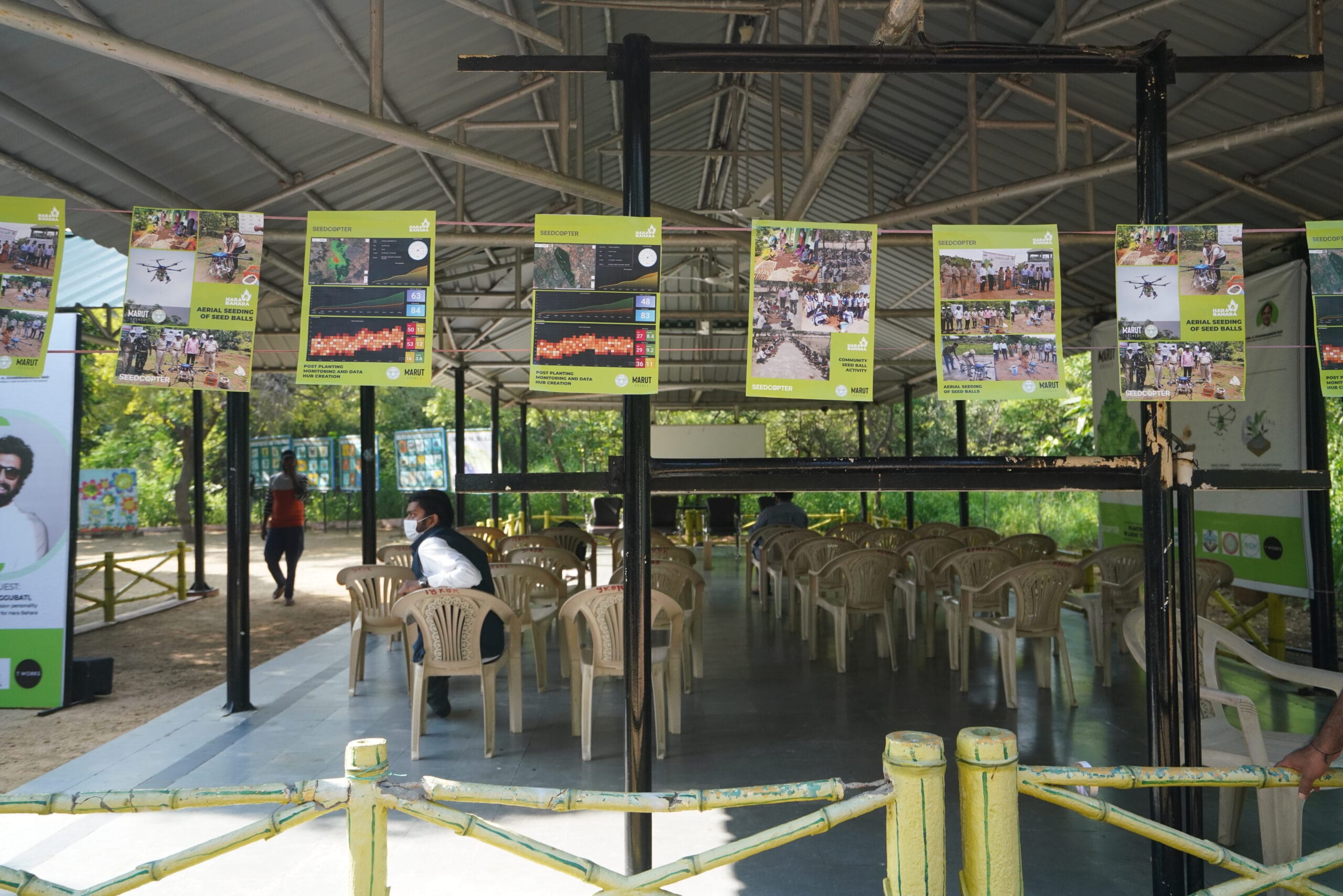 Veeranapalli Forest, Telangana
We had successfully deployed drones to sow the seed balls at Veppanapalli forest in Sircilla district – an initiative taken up as part of HARITHA HAARAM (Chain of Greenery) project. The plot is part of a dense forest in a rocky topography. The access is limited and there is a significant tribal population dependent on the forest. Around 15000 seedballs were disbursed in very short time across wider area.